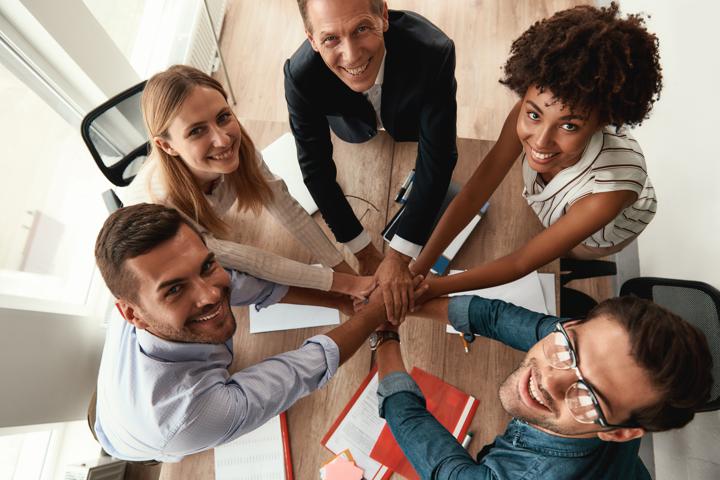 Inclusive collaboration is a way of working together towards a common objective where every member of the team is expected to, and feels comfortable, contributing. When teams collaborate inclusively, they align on common goals and also on the interpersonal norms that will ensure success for both individuals and the group as a whole. 
Inclusive collaboration evolves from a psychologically safe space that allows individuals from all races, genders, demographics, ages, physical abilities, and backgrounds to communicate respectfully together. Inclusive collaboration is important to businesses in all industries to achieve employee satisfaction and retention, and higher performance overall.
The Importance of Inclusion and Collaboration
Consider how your business would suffer if a third or half of your employees weren't there. You would expect lower profit margins, less productivity, and lower success rates. The results are similar when you have employees within your organization who don't feel comfortable speaking up or sharing new ideas. By creating an inclusive atmosphere where employees can offer their best ideas without fear, engagement is increased and the organization as a whole performs at higher levels. 
Ultimately, a cycle of success is created that helps your organization recruit and retain highly qualified employees while increasing financial gains. Consider the data on how diversity and inclusivity lead to a collaborative atmosphere that helps companies succeed.
We already know there is significant evidence that diversity improves workplace performance. Case in point:
By creating an inclusive environment, you encourage each member of your team to contribute more and perform at higher levels. You also create an attractive company culture that engages workers and encourages new recruits to join your organization. This is crucial in a competitive labor market with exceptionally high turnover.
Over 28 million workers quit their jobs in 2021. The November 2021 Job Openings and Labor Turnover (JOLTS) report shows that a whopping 4.5 million workers quit in a single month. Yet, another important statistic in the same report shows that these workers aren't quitting work altogether. The "hires" section of the report reveals that 6.7 million employees were hired in November. For employers, this means the opinions of job seekers and those leaving current positions are crucial to management decisions in 2022. Consider these statistics about employees entering and quitting positions:
It might seem startling to employers that money isn't driving the employment decisions of most employees. However, when you consider RallyBright data on the connection between a lack of inclusive collaboration and burnout, it's not that surprising. Employees must feel included and valued to offer their best performance on the job.
The Six Dimensions of Inclusion and Collaboration
While many companies are beginning to understand why inclusion and collaboration work together to create highly effective teams, it can be difficult to determine exactly how to apply the data to your own organization. Our recent research here at RallyBright identified and examined the six key dimensions of organizational collaboration and inclusion. By noting and measuring these elements in your workplace, and then taking steps to improve them, you can build a workplace that promotes and practices collaboration and inclusion.  
Alignment
When employee goals and team or organizational goals complement each other, overall performance is improved. Highly functioning teams reach an agreement on a common objective and form a commitment across the group to cooperate in pursuit of this goal. Teams working toward a goal they support become more engaged, which offers substantial benefits for any business. 
Cooperation
Teams of individuals working toward a common goal reach the highest level of success when each employee's strengths are recognized and utilized. Cooperation is achieved by dividing up work into clear roles and responsibilities. According to a McKinsey study, 70% of employees say their sense of purpose is defined by work. Yet, when asked if they felt they are living their purpose in their day-to-day lives, 85% of executives said they are living their purpose at work, while only 15% of frontline managers and employees felt the same way. When organizations fail to clarify the purpose, or role, of each team member, workers are more likely to seek other employment opportunities.
Compassion
When employees take into consideration the feelings of others and are willing to help coworkers at their own expense, a compassionate environment exists in the workplace. This is a major contributor to a sense of belonging. Seeking a more caring culture is one of the top three reasons employees were seeking new employment in 2021. A workplace with compassionate leaders and team members is more likely to retain qualified employees. 
Fairness
The recognition that diversity and inclusion lead to improved performance makes it clear that differences within a group are not obstacles, but assets. To accomplish this, employers and teams must be able to be aware of bias and have a willingness to address it. While companies are working toward eliminating bias, employment statistics among diverse demographics should be considered. The average unemployment rate in the U.S. is 3.9%, but it's 6.5% (men) and 6.7% (women) among veterans, 7.9% for disabled people, 7.9% for people with less formal education than a high school diploma, and 9.2% for foreign-born workers. Similarly, the average unemployment rate in the U.S. in 2019 was about 3.7%, while rates for black people were 6.1% and rates among Hispanic or Latinx populations were 4.3%. The gap among minorities in leadership roles is even more notable, with all minority executives combined only making up 11.6% of executives in the U.S.
Psychological Safety
In an environment where psychological safety is practiced, all employees feel free to behave authentically, fearlessly speak up, contribute, and make mistakes. As workers seek jobs with a caring culture, connections in the workplace will be an important driver of workplace satisfaction. 
Belonging
The well-being of your team is crucial for optimal productivity. Team members need to feel connected and valued, which starts with a sense of belonging among all employees. True inclusion only exists when all workers have confidence that they bring valuable skills and knowledge to the team. 
How to Encourage Inclusive Collaboration
Building a culture of inclusive collaboration begins with an understanding of your organization's current position and a definition of the organizational culture you expect to achieve. By getting a firm understanding of what inclusion means and how to practice it, you can create open communication among leaders and employees in your company. 
Consider how these tips can help you improve inclusive collaboration in the workplace.
Open a variety of communication channels. Employees and company leaders should be able to meet face-to-face, send emails, and communicate through messages throughout the workday. Some of these communications should include an entire team or company to bring everyone together. Multiple options offer convenience that is most likely to keep communications open.
Utilize measurable data to track your company's progress. By using data to determine the climate for collaboration, as well as how included team members feel based on self-reported feelings of psychological safety and belonging, you can get a firm understanding of where your company stands and where to focus improvements.
Celebrate personal moments and achievements at the workplace. By celebrating holidays, personal milestones, and achievements unrelated to work, co-workers can form a bond and develop a sense of compassion and belonging.
Encourage personal connections between co-workers. By scheduling team events, weekly or monthly meals, or simple get-togethers, you can create a community among employees that fosters psychological safety and belonging.
Stay Up-to-Date on the Science and Practice of High-Performing Teams
As more data comes to light about the positive effects of diversity and inclusive collaboration, organizations are beginning to recognize the potential for success. When a workplace establishes a positive and inclusive culture, employees become more engaged and are less likely to seek a new position. Inclusive collaboration provides employers with a way to bring out the strengths of every employee for a more innovative, prosperous future.
At RallyBright, we provide leaders with a way to utilize data that measures how well your teams perform together. The RallyBright Inclusive Collaboration Toolkit allows you to measure, diagnose, and improve inclusive collaboration across your teams and organization. To learn more, book a demo today.