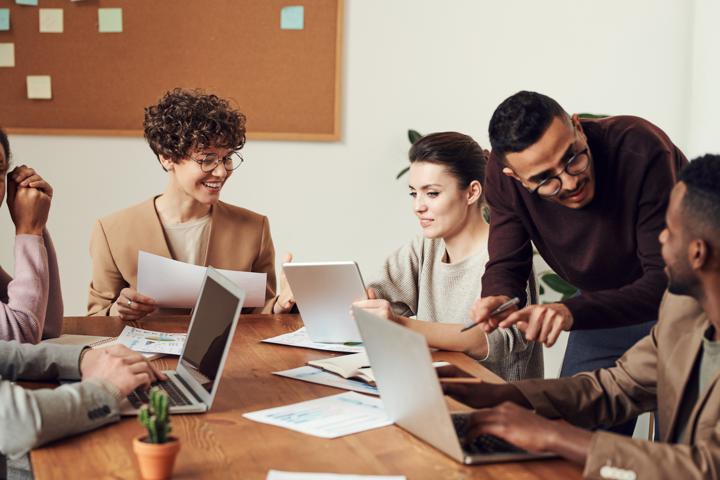 Inclusion and collaboration improve organizations in many different ways. When all team members feel a sense of belonging, collaboration becomes more fluid and productive. Often, the term inclusivity is tied to diversity. Yet, inclusion is about more than inviting different groups of people to the table; it's also creating an environment where all perspectives and experiences are welcomed and valued. Giving everyone on your team a voice, and the right environment to use it, brings about collaboration with improved results.
What We Mean by Inclusion
Merriam Webster defines inclusion as the act or practice of including and accommodating people who have historically been excluded. Today, inclusion in the workplace is more commonly defined as giving each employee what they need to thrive at work. Inclusion practices are the efforts that make each person feel as though they are psychologically safe on a team, and belong there. An inclusive team is a group of people that recognizes, welcomes, and values each of the diverse perspectives of every member of the team.
An inclusively collaborative team approaches differences, conflict, and even mistakes as opportunities for innovation and excellence. For these reasons, inclusive collaboration is the foundation of organizational success. 
The Six Pillars of Inclusive Collaboration
Deloitte describes six signature traits of inclusive leaders as courage, cognizance, curiosity, cultural intelligence, collaboration, and commitment. Still, it takes more than inclusive leaders to make up an inclusive team. Inclusion relies on the day-to-day interactions between employees, managers, team leaders, co-workers, and teams. 
When teams engage in inclusive collaboration, it means that team members align on common goals and also on the interpersonal norms that ensure success for both individuals and the group as a whole. Our recent research here at RallyBright identified and examined the six key dimensions of organizational collaboration and inclusion. 
Collaboration Dimensions
Alignment
When employees have goals that are aligned with those of the organization they work for, both personal and company goals are easier to reach. A 2020 Gallup survey noted a recent and historic drop in employee engagement. The survey found that only 36% of employees in the US are actively engaged, while 14% are actively disengaged and 54% are simply not engaged. Disengaged employees show up but put in the minimum amount of effort required. Findings went on to note that providing clear direction can improve employee engagement.
Cooperation
Cooperation is a key component of collaboration. To improve cooperation, the focus should be on dividing work into clear roles and responsibilities, communicating effectively, and sharing knowledge freely.
Compassion
The willingness to help others at our own expense, and the consistent consideration of our own and others' feelings may be the most critical component of collaboration. When team members show compassion toward one another, they help create strong team connections. 
The key to creating a compassionate work environment is to define what support looks like and explore how needs vary from team member to team member. For example, support can be emotional, like lending an ear or offering encouragement. Or it can be practical, like troubleshooting or brainstorming solutions. In addition, supportive behaviors can vary widely between cultures. The best way to explore and bridge these differences is for team members to develop deeper relationships with one another.
Fairness
Fairness means there is a willingness to address bias, paired with a mindset that differences within a group are not obstacles but assets. Our differences should be seen as enriching our experiences, not dividing them. When an environment is fair, all team members have an equal chance to excel and unique capabilities are valued.
Ultimately, fairness is about everyone getting what they need to succeed – such as access to opportunities, connections and support – based on who they are as an individual and what they wish to achieve.
Inclusion Dimensions
Psychological Safety
Psychological safety in the workplace is the ability to be your authentic self, speak up without fear, and make mistakes. A recent study by McKinsey & Company revealed that team climate is the most important driver of psychological safety. An organization where employees don't feel comfortable speaking up lacks the equipment to prevent failure. When employees feel comfortable asking questions, facing constructive conflict, and learning from failures they are comfortable being themselves. The organization reaps the benefits of such a culture with engaged employees who seek innovative solutions to drive success.
Belonging
Our June 2021 study confirmed that a sense of belonging is the strongest predictor of job satisfaction and turnover intent. In organizations where belonging was indicated as high (in the top quartile), 97.7% of respondents indicated they were "satisfied or very satisfied with their job," and only 1.8% indicated they "thought often or very often about leaving their current job." 
Belonging is all about the confidence we feel about the skills and knowledge we bring to the group, as well as a feeling of being intimately connected to other group members. It's been argued that a sense of belonging is a feeling that exists within an individual. However, if the actions of leaders and team members within an organization make employees feel like outsiders, they aren't truly included in the team. According to Gartner, workplace understanding, support, and trust reduce the likelihood of an individual feeling like an outsider. By making personal connections and valuing ideas that make an individual unique from their coworkers, every employee can feel comfortable making important contributions to the team.
How to Build a Culture of Inclusive Collaboration
 Inclusive collaboration is the foundation of organizational success. It creates a sense that everyone belongs, both in terms of the work they are doing, as well as relationships formed within the group. It's an environment where individuals feel confident showing up as their true selves without hiding aspects of their identity. Organizations that achieve inclusive collaboration reap benefits through increased employee engagement, higher job satisfaction, innovative ideas that drive success, and lower turnover rates. 
Companies and teams that view inclusivity as a process instead of a program build changes that transform the way the organization works. To build a culture of inclusive collaboration, organizations will need to adopt processes that encourage open communication. Consider these strategies to build a culture of inclusive collaboration in your workplace.
Provide Safe Spaces for Employees
Inclusivity isn't limited to any specific group of people. A sense of belonging for all can be hampered by poorly designed spaces or the tendency to fall back on generic terms. Providing safe spaces can cover a wide variety of actions that may include:
Eliminating terms that assume gender identity, overlook disabilities, and suggest age or racial bias.

Creating physical spaces like gender-neutral restrooms, private spaces for breastfeeding mothers, and accessibility for disabled employees.

Offering benefits that offer all employees flexibility free from fear of losing advancement opportunities.
Define a Collaborative Environment
Creating an atmosphere where employees feel comfortable contributing to an organization's success requires a concrete approach that encourages new ideas. For instance, employees need to feel confident enough to ask questions that allow them to fully understand certain concepts and to voice ideas that fall outside traditional thinking. For a collaborative workplace that prioritizes psychological safety to exist, employees should have guidelines and modeled behavior from leaders that encourages constructive conversations. This could include established processes for handling (and learning from) failures, creating space for new ideas, and embracing productive conflict.
Use Measurable Data to Track Improvement
Providing routine employee surveys can give employees a voice to describe how efforts are working or could be improved. Anonymous suggestions could be used for discussion topics at company meetings to open a dialogue about new opportunities for change. Utilizing tools to benchmark and measure data related to the six pillars of inclusive collaboration provides organizations with a way to note strengths and vulnerabilities and create a roadmap for continuous improvement.
Build a Culture of Inclusive Collaboration
Diverse teams do not drive company success alone. Inclusive collaboration is the mechanism by which teams can reap the benefits of their diversity. It doesn't matter how diverse a team is if the team culture is one that doesn't recognize, value, or welcome those diverse perspectives. Teams should operate in a way that seeks out authenticity, contribution, free exchange of ideas, and respectful debate. It's not enough for diverse members to have a seat at the table. They also need to have a voice.
RallyBright's Inclusive Collaboration Toolkit is designed to measure inclusion and collaboration across six key behavioral and attitudinal dimensions. By measuring progress and taking targeted action toward improvement, job satisfaction and turnover rates can be improved. To learn more, schedule your free demo today.