Much has been reported in the past two years about the changing relationship between employees and work, and how organizations are evolving their support for workers. RallyBright has been tracking these changes, and based on our latest research, it appears people are feeling better about work in 2022 than they did last year.
In June, we conducted our second annual Inclusive Collaboration at Work Study, this year expanding the survey group to 1,500 working professionals in the US and UK. The study measured six key variables of organizational collaboration and inclusion: alignment, cooperation, compassion, fairness, psychological safety and belonging. In 2022, scores across all of these variables increased slightly compared with 2021. This is progress, particularly during the recent period of workforce upheaval.
In addition, the study showed – somewhat surprisingly given recent headlines – that overall employee burnout was down year over year. Organizations perceived as highly inclusive and collaborative by their employees made the most progress in reducing burnout. In fact, the results showed that employee burnout remains more than four times lower in highly inclusive and collaborative environments – those that rank in the top quartile – compared with organizations whose inclusion and collaboration scores fall outside of that quartile. Survey results both years clearly show that as inclusion rises, burnout decreases.
Why Organizations Should Measure Inclusive Collaboration
Organizations can benefit greatly from understanding their own capacity for inclusion and collaboration. The study reveals correlations between the key variables of inclusive collaboration and the employment experience outcomes of burnout, turnover intention, job satisfaction and employee engagement. Notably:
Psychological safety and belonging predict burnout the best. Both of these variables are highly significant in measuring feelings of burnout.
Belonging predicts turnover intention the best. Cooperation, alignment and psychological safety are also significant predictors.
Belonging is the best variable for explaining levels of job satisfaction, burnout and turnover intention. For this reason, belonging should be the first variable an organization looks at when trying to predict whether job satisfaction, burnout and turnover intention will be high or low.
Belonging, alignment and psychological safety are the best predictors of job satisfaction. All three of these variables are highly significant in gauging job satisfaction, but belonging is the best predictor.
Belonging, alignment and fairness are best at predicting Employee Net Promoter Scores (eNPS). Additionally, compassion and psychological safety are significant predictors.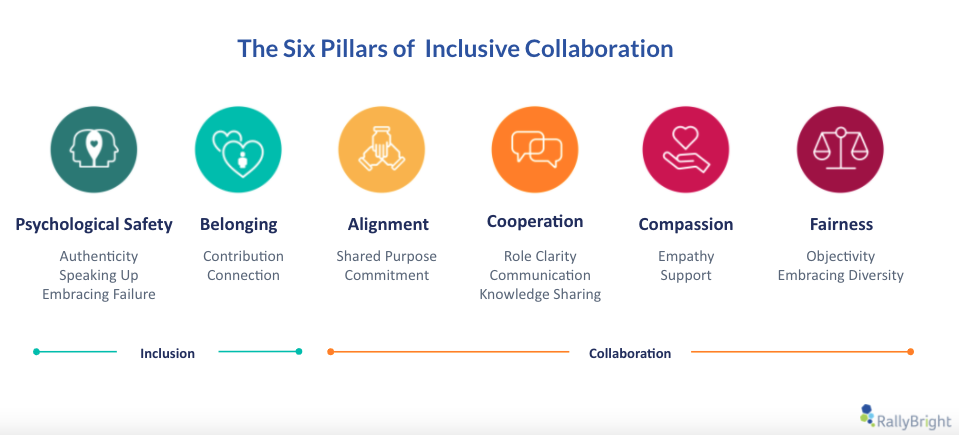 Organizations looking to understand how to apply these correlations to improve their employment experience outcomes should start by actively tracking their capacity for inclusion and collaboration. A tool like RallyBright's Inclusive Collaboration Toolkit can help measure, diagnose and provide guidance for improving inclusion, collaboration and team performance.
Pay Attention to These Aspects of the Work Environment
In addition to expanding our 2022 study to include 500 UK-based working professionals along with 1,000 US-based workers, we added new questions that reveal a number of important findings about how elements of an individual's work environment impact employee perceptions of inclusion and collaboration, such as:
Mode of Work: Individuals working remotely or in a hybrid arrangement tend to experience their workplaces as more collaborative and inclusive compared with in-person workers.
Relationship with Manager: The more satisfied an employee is with their relationship with their manager, the more collaborative and inclusive they perceive their workplace.
Comfort with Collaborative Software: The more comfortable employees are using collaborative software like Slack, Microsoft Teams, Google Drive, and others, the more collaborative and inclusive they experience their workplaces.
Level-Up Inclusive Collaboration
While the findings of this year's Inclusive Collaboration at Work Study are largely encouraging, they're not a sign for organizations to pull back on inclusion and collaboration strategies. Organizations can drive greater performance by continuing to strive to understand and address the most important current concerns of workers.
For example, examine how in-person, remote and hybrid work are impacting feelings of inclusion among workers, particularly across various demographic groups. Gauge employee comfort with collaborative software tools and take measures to bolster it if there's a gap. Work to support managers in developing strong relationships with team members to improve how workers experience inclusive collaboration.
Focusing on the variables that drive inclusive collaboration pays off by improving the ability to attract and retain talent, by increasing employee engagement and by creating the conditions in which high-performance teams can thrive.
About the Inclusive Collaboration at Work Study 2022
The Inclusive Collaboration at Work Study 2022 was conducted online in June 2022 with a diverse sample of 1,500 working professionals (1,000 US-based and 500 UK-based). Download the study here.