When it comes to improving your team's performance, there are numerous solutions available to aid leaders in evaluating their team, promoting resilience and optimizing productivity. Nowadays, performance management tools have advanced significantly.
They are software-based and scientifically backed, and they translate findings into actionable behaviors and skills that are relevant to your particular organization. Your team holds the potential to become a high-performing unit that can elevate your organization to new heights, and performance management tools can assist them in achieving this desired outcome. 
However, with so many options on the market competing for your attention and money, not all tools are created equal. It's crucial to select a tool that is genuinely beneficial.
Here's everything you need to know about tools for performance management (including why they matter), along with our hand-picked list of the top tools available today.
Understanding the Importance of Team Performance Management
Teams will always perform, whether or not their performance is managed. However, the manner in which a team performs can either be left to chance or actively managed by leaders and decision-makers. And the most effective way to do this is by leveraging tools for performance management.
As you can probably imagine, when team performance is actively managed, leaders drive positive team dynamics and a stronger team performance in a few specific areas. Data shows that 66% of companies that continuously manage performance experience better productivity, for example. 
Research from UVA Health also shows that strong communication across team members creates high-quality work which leads to more effective team performance. These communication patterns can easily be enhanced through proper performance management. 
There are some other significant potential impacts of team performance management, including the fact that when teams engage in decision-focused conflict and problem-solving, they experience better team performance. Further data shows that highly engaged employees are far less likely to leave their roles than their peers and companies that continuously manage performance are 39% better at attracting top talent. 
But what happens when a team's performance isn't actively managed? The unfortunate reality is that outcomes can be all over the place, results might not be consistent and a team might have trouble managing challenges.
Instead of optimal performance, there might be bottlenecks, sticky points and inefficiencies. Setbacks can rattle a team like this, and they might be poorly prepared to handle shifting environments.
Can Tools Really Transform Teams?
When it comes to successfully managing the performance of teams (and ultimately cultivating a high-performing team), are performance management tools really the way to go? 
Historically, organizations have used surveys to look at team performance, but it can actually be quite challenging to distill larger trends and team insights from this data alone. That's because these surveys typically fail to distinguish between team performance and individual performance. Organizations might also use engagement surveys for this data, which can be relevant to the entire organization instead of an individual team.
Tools for performance management take an advanced approach to team skills, behaviors, strengths and even areas for improvement. They give leaders data-backed insights into where their team stands, what its greatest strengths are and where there are growth opportunities. These tools can also give you concrete recommendations for improvements, so you have specific steps to take to drive your team's performance.
Without these tools, managing team performance is sort of like "throwing things at the wall to see what sticks." Some efforts might yield desirable outcomes, while others might miss the mark, making it difficult to repeat successes. 

Factors to Consider When Picking a System
There are many different tools for performance management out there, which have different features and benefits and are designed for different types of teams. With that in mind, here are some factors to consider when choosing a tool for performance management.
Scalability
Is your team performance management tool built for a team of your size, and will it suit your team in the future? Certain team performance management tools might be best for small, medium-sized or ultra-large teams.

When selecting a tool, make sure it's not only suitable now but can scale as you grow. For example, RallyBright's team performance management tool is used with organizations from 6 to 50,000 team members.
Customization Options
Just as your team is unique, your team will have unique needs when it comes to performance management. That's why leaders should consider choosing a tool with many customization options. For example, you might be able to customize the assessment to meet your organization's needs or map the behaviors being assessed to your organization's specific values.
Team Insights vs. Org-Wide Insights
As we touched on earlier, organizations have historically used team performance surveys to manage their teams, and these surveys can provide lackluster insights into the perspectives of both the teams and individuals.
But selecting a tool that has both individual and team-wide insights gives leaders and decision-makers a 360-degree view into what is driving the team performance and dynamics. This allows them to make the best decisions possible for their team. These tools also give organization-wide insights so leaders can understand how their workforce is trending.
Training and Ongoing Support
When it comes to your managers, they need to be able to navigate the feedback from tools for performance management and succeed in guiding your team to success. That's why leaders can consider tools for performance management that have both training features and offer ongoing support. For example, RallyBright offers multiple levels of certification for the team admin, as well as coaching and academy courses.
Alignment With Organization Goals
Some tools for performance management might give you general insights, but others might provide you with ones specific to your organization. Consider choosing a tool that doesn't just give you any insights but that align with your organization's specific goals.
When this is the case, the results translate precisely into how your team is doing and how they can improve. This includes detailing your team's (or organization's) strengths and what behaviors are actually driving success.
Ease of Use
Most performance management tools available today are designed to meet the needs of modern teams. As a result, you can choose one that is easy to use, technologically advanced and a platform that you will actually enjoy using. When this happens, your tool will clearly aggregate your insights, provide key takeaways and roadmaps and display data in dashboards using easy-to-read paragraphs, graphs and charts.
5 Team Performance Tools
Now that you know exactly why tools for performance management matter, here's a list of the most comprehensive team performance tools on the market today.
RallyBright is a platform that gives your organization the science, software and skills to build exceptional teams that crush their goals. RallyBright has several team-based tools specifically designed for managing team performance. For example, RallyBright's team-centered assessment helps you optimize your team's performance, view its strengths and areas for improvement and see roadmaps and resources to drive meaningful change.
RallyBright is science-backed, built on research conducted over 20 years at leading organizations and gives you consistent and validated measurements across teams. You'll be able to quickly identify your team's behaviors and opportunities for growth and learn if there's a "reality gap" between a leader and team ratings.
RallyBright is also a powerful change management tool, meaning you can effectively lead your teams through change and create meaningful and sustainable transformations. 
RallyBright provides leaders with concrete recommendations, insights into their team's strengths and clear views into any blind spots. Additionally, hundreds of resources are mapped to your team's specific action plan to help them achieve their goals effectively. 
Lattice is a leading HR platform called a "people success platform." It integrates with many software which are commonly used, and Lattice says its management tools lead to a "happier workforce" and leaders can "cut annual review time in half."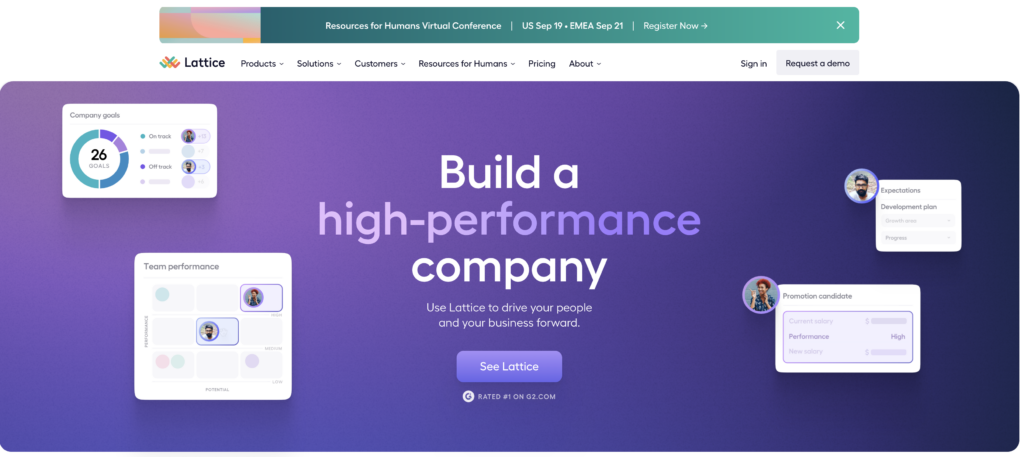 Lattice's tools allow businesses to conduct reviews, one-on-ones, provide feedback and praise and give employees updates.
Calling itself the "people and culture platform," Culture Amp says it's an "all-in-one" platform which gives you "trusted, actionable insights." Culture Amp says that when organizations use their platform, they experience more innovation, higher customer satisfaction and greater profitability.
Culture Amp allows you to set goals on the individual, team and organizational levels. It provides you with different types of surveys and questions (such as benefits surveys, inclusion surveys, wellbeing question sets and remote work questions). It also gives you analytics into your team members and warns you when it anticipates that they might quit.
PerformYard is a performance management tool that can help you "achieve your high-performance culture." It provides tools for performance reviews, goals and continuous feedback. 
PerformYard says that "everything runs on autopilot" and that forms and performance data will arrive "to the right employees at the right time." Managers can also recognize team member's achievements (privately or publicly) and can identify top performers with "built-in data visualizations."
Connecteam is mainly an employee scheduling and time-tracking app, allowing leaders and managers to recognize employees, give out awards, chat with team members and complete forms and checklists. Connecteam says it's "the one solution for managing your employees" and that you can "manage, train and communicate" with your workforce.
RallyBright Has Transformed Organizations and Can Be a Part of Your Team's Growth
If you want to get a clear understanding of your team's performance and want actionable suggestions for improvement, then performance management tools are the way to go. When deciding on a tool, make sure it meets all your requirements, provides useful insights and offers practical next steps.
If you're looking to direct your team through precise improvements, future-proof your organization and ensure your team is resilient, RallyBright might be exactly what you're looking for. Let us show you what we mean, and try a RallyBright demo today.